Every man needs a reliable watch to keep him on schedule and looking sharp. But here's the real deal – finding a watch that matches his personal style is where the true magic happens. Whether you're shopping for dad, grandpa, a friend, or yourself, get ready to explore the world of men's watch styles in our ultimate beginner's guide to choosing men's watches.
Why is it important for a man to know about different watch styles?
A watch isn't some generic accessory that fits every man's taste. A watch is a sartorial statement that speaks volumes about a man's personality and style, whether he's all about a classic and refined look or prefers a sporty and adventurous vibe. Understanding different watch styles enables a man to make an informed decision and choose a watch that truly represents himself or the gentleman he's shopping for.
Exploring the different styles of watches for men
Let's explore some of the main watch styles that can elevate a man's ensemble and make a lasting impression. Lucky for you, our beginner's guide to choosing men's watches includes our top pick for each style to make your search a breeze.
Classic Leather Watches:
For the gentleman who appreciates timeless elegance and sophistication, a leather strap watch is an excellent choice. Natural leather also softens with wear, offering a comfortable fit for years to come.
Our top leather watch pick: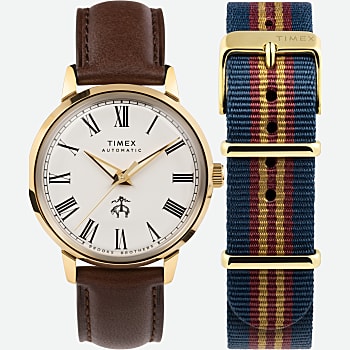 The Timex Marlin Automatic x Brooks Brothers watch pays homage to the original Marlin timepiece, staying true to its design with a sturdy 38mm stainless-steel case and domed acrylic crystal face, exuding classic sophistication. The cream dial with Roman numerals adds a touch of old-world charm, making this watch a perfect accessory for those who appreciate iconic design. Its two-piece quick-release leather strap and additional slip-through double-layer fabric strap make it a versatile, easy-to-wear timepiece that complements any outfit, no matter the occasion. Meticulously crafted with utmost attention to detail and powered by an ultra-precise automatic movement, this watch is truly a work of art that will endure the test of time.
Sleek Digital Watches:
A digital watch is ideal for a man seeking a contemporary and versatile watch. These watches usually feature multiple functions and a sleek and sporty case design.
Our top digital watch pick: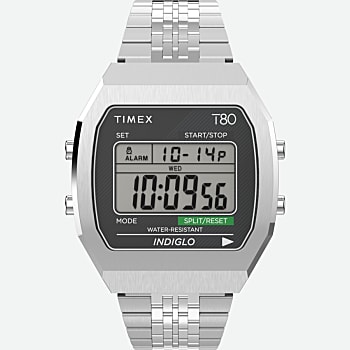 Like our original T80, our Timex T80 Steel packs a date display, stopwatch, INDIGLO® backlight, 30m water resistant rating, and alarm, but it serves a new look with a sleeker, more modernized, 36mm stainless-steel case. Rock it on a gold-tone or silver-tone stainless-steel bracelet – we don't mind which you choose, as long as you rock it.
Feature-Packed Sports Watches:
Designed for active individuals, sports watches are durable, water-resistant, and equipped with various features for training in and out of the gym.
Our top sports watch pick: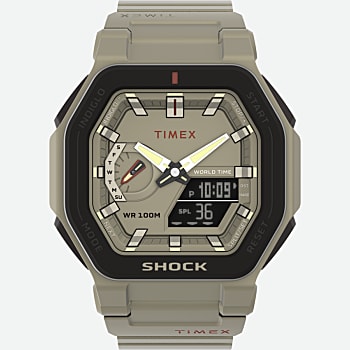 Our Command Encounter is proof of our legendary durability and attention to detail. Clocking in at a substantial 45mm, this military-inspired analog-digital timepiece features an octagonal, shock-resistant, three-piece resin composite case. A layered sand-colored dial with embossed indices keeps with its rough and rugged, utilitarian design aesthetic, although rest assured this isn't just for show—the watch is water resistant up to 100 meters and showcases additional features any adventurer or outdoor enthusiast will appreciate: luminescent hands and markers; extra-large, tactile pushers; world time for 48 cities; chrono, timer and alarm; and sand-colored resin straps built for comfort and durability.
Durable Stainless-Steel Watches:
For a polished and refined look, stainless-steel watches are a great choice. They're also very durable – this specific type of metal is hypoallergenic, resistant to rust and corrosion, and typically used in high end watches.
Our top stainless-steel watch pick: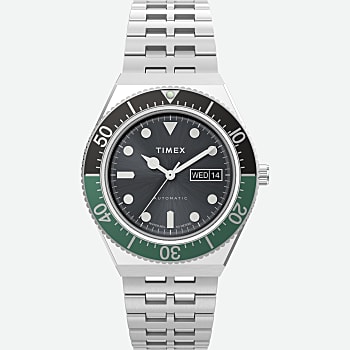 Our M79 Automatic is something entirely new, even though it might look familiar. Inspired by the 1970s Q Timex and elevated with a 21-jewel automatic movement, this watch is a fresh interpretation of a much-loved Timex icon. The 40-hour power reserve of its Japan-made, self-winding, automatic movement is energized by your motion and can also be wound manually by using the crown. It features a green and black unidirectional bezel, a black dial, luminous dial markings, a stainless-steel bracelet and an exhibition case back, making this a modern watch that captures the bold spirit of an era that changed everything.
Rugged Military-Inspired Watches:
Inspired by the utilitarian military styles of the past, these watches combine durability and style. Military-inspired watches usually feature a rugged case design and features such as luminescent hands and hour markers for optimal visibility in low light.
Our top military-inspired watch pick: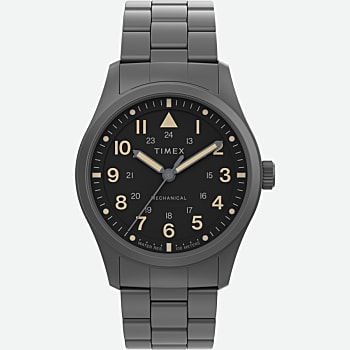 Directly inspired by military-issued designs from decades past, our Field Post 38 Mechanical watch does more than look the part—it features a sturdy crown and screw-down case back giving it 100 meters of water resistance, plus luminous hands and dial markings, a hand-winding mechanical movement, and a scratch-resistant, anti-reflective sapphire crystal. All that functionality comes in a 38mm stainless-steel case and bracelet. For the mechanical movement, wind the crown until you feel a slight resistance. This is best done at the same time each day to keep the watch continually running.
Charming Vintage-Inspired Watches:
If you appreciate nostalgia and retro aesthetics, a vintage-inspired watch adds a touch of old-world charm to your wrist.
Our top vintage-inspired watch pick: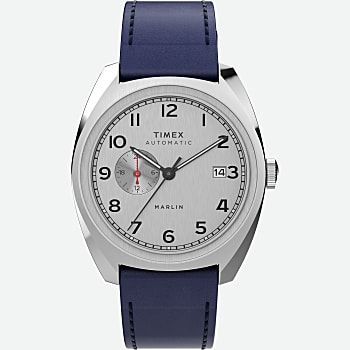 The Marlin Automatic Sub-Dial brings a modern-retro update to our 1960s Marlin. Pops of brilliant blue and riveting red highlight its sleek design, creating a contemporary style that's sharp enough for any outing. Sophisticated details abound, including a full Arabic dial, date feature, 24-hour format sub-dial at the 9 o'clock position, and a stainless-steel case in a curved cushion shape. The Japanese automatic movement is showcased through an exhibition case back which bears the Marlin name and a detailed etching of the iconic marlin fish. The full Marlin name also graces the dial and crown to honor not only our watchmaking legacy, but the ever-evolving style of this suave '60s icon.
Versatile Diver-Inspired Watches:
Diver-inspired watches exude a sense of adventure and versatility, whether you're exploring the sea or simply appreciating their rugged design. They're usually built with a high level of water resistance and a rotating top ring – a feature traditionally used for tracking time below the waves.
Our top diver-inspired watch pick: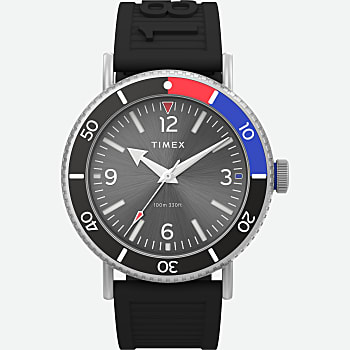 Whether you're navigating the sea or exploring the coast, the Standard Diver 1854 is the perfect timepiece to accompany you on your adventures. It brings together classic elements with modern materials, including a sustainable black strap crafted from bio-based resin made with wheat fiber. This innovative strap provides the same comfort and durability as a traditional resin strap but has a much smaller carbon footprint thanks to its partly organic makeup. The strap's debossed 1854 nods to our heritage as watchmakers, while a rotating top ring, bold watch hands, black dial, heavy Arabic indices, and slightly larger 43mm case size bring both nautical and military-inspired influences to the design. With its rugged durability and commitment to sustainability, this watch is made for those with a hunger to venture off-grid.
Key Takeaway:
Choosing the right watch style is an opportunity for a man to express his personality and elevate his overall look. With a rich heritage and a reputation for reliable timekeeping, Timex offers a wide selection of men's watches that blend style, functionality, and affordability. Whether you're looking for a classic leather watch, a modern digital companion, or a rugged sports timepiece, we have the watch you've been longing for.