Caps are about to fly, and it's time to start looking for the perfect gift for the graduate in your life. While there are many gifts to choose from, a graduation watch is an excellent choice for a number of reasons.

For starters, a watch is more than a stylish accessory. It's a practical tool that'll help your grad stay on top of their game as they enter the real world. You know, all those meetings, deadlines, and appointments they're going to have to juggle? A watch will be their secret weapon for staying on time and on track. A watch is also a symbol of professionalism and maturity. A well-chosen watch will pull their look together so that they can make a good first impression, and it'll also show that your grad is ready to tackle life as an independent adult and take their commitments seriously. Finally, a watch can hold sentimental value. Especially a graduation watch, which can serve as a reminder of the hard work and dedication that led to this milestone achievement.

So, if you want to give your grad a gift that's practical, symbolic, and sentimental, look no further than a graduation watch. Luckily for you, we've got the ultimate 2023 graduation watch gift guide brimming with fantastic options. From trendy to timeless, sporty to sophisticated, we've got the perfect watch for every type of grad out there.
Our 4 Sharpest Graduation Watches for Him:
A watch can keep him looking sharp while also keeping him on time for class, work, or any important appointments he may have. Check out our top graduation watches for him: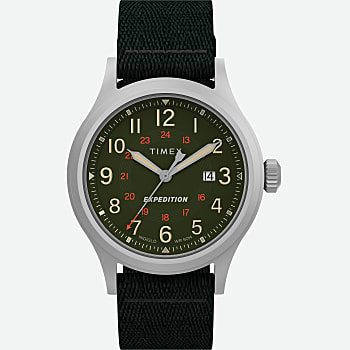 Perfect for the adventure-loving graduate, our Expedition® North Sierra is ready for rain or shine, mountain or valley, and everything else in between.

The automatic movement in our Harborside Coast doesn't require a battery, making it a reliable companion for his busy schedule.

With its bold design and jet black dial, the M79 Automatic is a watch he can sport for any occasion, from job interviews to gatherings with friends.

Complete with a Japanese automatic movement showcased through an exhibition case back and a detailed etching of the iconic marlin fish, this suave rendition of our €˜60s Marlin will be his new favorite conversation piece.
Our 4 Most Sophisticated Graduation Watches for Her:
A watch can add a touch of sophistication to her look while also helping her stay on track of her busy schedule, manage her time effectively, and make a statement about her professional aspirations. Check out our top graduation watches for her:
With an exquisite 32mm case profile, the presentation of this women's dress watch is a sight to behold. A beautiful dial with crystal indices and leather strap give this timepiece an air of elegance she'll love to wear.

Our Legacy Day and Date embraces modern watchmaking with easy-to-wear proportions, showcasing a bright white dial that will bring a clean-cut sophistication to her look.

A watch for the girl who's bound for the big city: whether she's heading Uptown or sticking below 14th Street, we guarantee that she'll keep time in style with this Midtown on her wrist.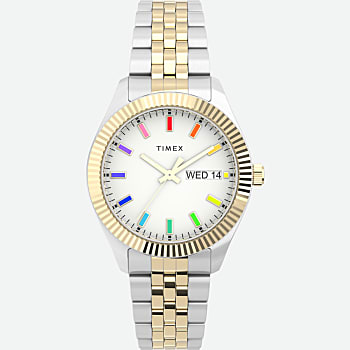 Each hour marker of our Legacy Rainbow bursts with a different color of the rainbow to bring joy to her day, no matter the time.
Graduation is a time of reflection and celebration, and a watch can be a lasting memento of this special time in his or her life. Check out our top graduation watches for him and her: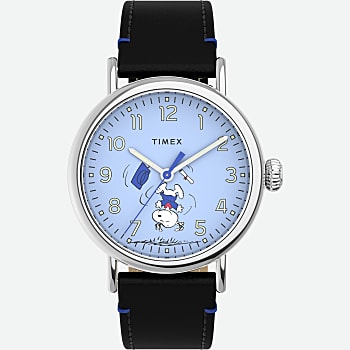 This adorable Peanuts update to our Standard speaks for itself.

The Waterbury Classic displays our attention to craftsmanship and detail, with finely-finished surfaces and careful applications of watchmaking ingenuity - great for making a good first impression in the professional world.

Perfect for the graduate heading far away from home, the Q Timex Three Time Zone Chronograph is capable of tracking three different time zones simultaneously.